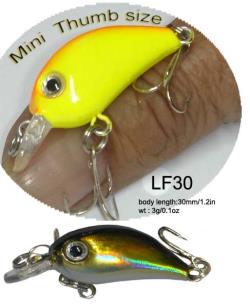 LF30 Mini Buggy crankbaits -30mm or 1.5 in, surface swimmer, small but well balance.Wt:3g/0.1oz Hooks:#12 & #5 .
Designed for dogging with a very light action rods.
size smaller than a thumb.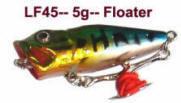 LF45 Tapole crankbait, is a small rattling wobblers:
Length: 45mm/1.8in, wt: 5g/0.2oz-a Floater plug


LM55D
-
Hawkil
crankbait swims like a fleeing minnow, when retrieved slowly will twitch and jerks
like an injured baitfish. The special lip design enables
the crankbaits to bounce off of stumps and other obstruction. A lively mid level swim plug .
Size
:55mm/2.2in
Overall length:95mm/3.7in
WEIGHT:4g/0.15oz Hook:#12
Swim action: Surface to Mid level



LM60D- Virusi crankbait.

3-dimensional features for a dazzling under water effect, Deeply embossed scales, with a thin laser film.
Size: 60mm/2.4in
Overall length:100mm/4.2in,
Weight:6g/0.2oz Hook:#8


LF56-Limping Minnow crankbait
Surface swimmer. Body length: 2.2in/56mm. Wt:2.5g/0.1oz , Hook: 2 x #12
Dive to :0.3mtr/1ft below surface
and float back to surface when line slack.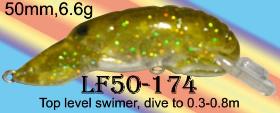 LF50-174- Mothy
Body length:50mm,
Swim action: Dive to 0.3-0.5m
Hook; 2 x #8 . Wt:6.6g/0.25oz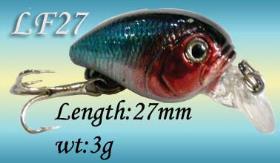 LF27 Bug -27mm or 1.1in, surface swimmer,
small but well balance .Wt:3g/0.18oz Hooks:#12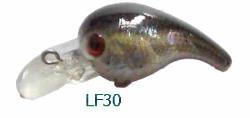 LF30B Bug -30mm or 1.5 in, surface swimmer,
small but well balance .Wt:3g/0.1oz Hooks:#12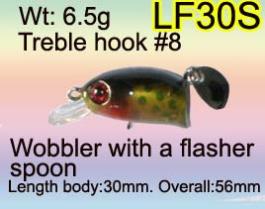 LF30S- cyclone crankbait
Body length:30mm, overall:56mm, Surface swimmer
Spinner blade creates high water turbulence.
Hook; 1 x #8 . Wt:5g/0.2oz
Swims from 0.3m down to 1mtr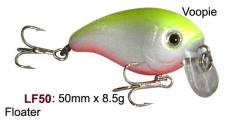 LF50- Voopie Devil.
The crankbait employs a magnetic counter weight steel balls to achieve its special darting actions.
This system enables the wobbler to achieve unique swim actions. SIZE: 50mm/2in, Overall length:85mm/3.3in Weight:5.5g Hook:#8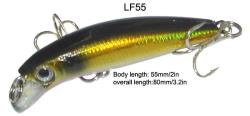 LF55: Minnow sinking crankbait
Length:overall:60mm/2.4in, Body length:55mm.
Hook: 2 x #6, Wt:5g/0.2oz.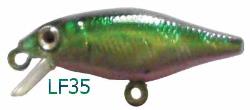 LF35 Dancer -35mm or 1.38 in, Surface swimmer,
well balance dancer.floater, hook#12. wt:2g/0.07oz


LF40 DARTER crankbait
surface swimmer length:40mm/1.5in
Wt:3.5g/0.12oz. Hooks:#8 an #5


LF50D Buzcombie crankbait. Floater
Body length: 50mm/2 in,Overall length:70mm/2.8in, Wt:5.5g, Large hump body makes it darts like a bug. When retrieve slowly, the hump will create water ripples.


LD55DS- Humback crankbait.
Length:55mm/2in. Wt:11g/0.4oz. Hook 2 x #6
Fast diver to a depth of 5mtrs/15ft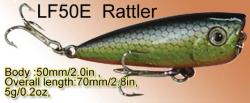 LF50E Rattler crankbait
Loud ratting sound with a balance body.
. Swims with a smooth dipping dive action.
Length:50mm/2.0in,Overall length:70mm/2.8in, 5g/0.2oz,




LD60 Humpy Diving crankbait, Holographic finish
with etched lateral line and 3D eyes
Body length: 60mm(2.4in). verall length:110mm/4.3in
Wt:11g/0.4oz. Hook size::#4 treble
The bill is designed to provide a fast deep diving action
Will wobble down to 7-8 ft even with a slow retrieve.
Generating a loud rattle.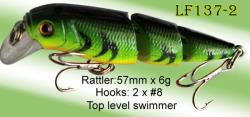 LF137-2 Rattler
surface swimmer
length:57mm/2.2in Wt:6.0g/0.20oz.
hooks:#8 x 2